Description
The heart of Madrid becomes a stage that beats at every step of the protagonists of this story. A novel that perfectly stages the society of the last years of the Franco regime and the conquest for freedom of a generation of brave women who fought to make themselves heard.
Matesa, the most convulsive case of corruption under Franco, shakes the political and social landscape in increasingly difficult times. Unaware of this reality, Adela, a young woman from high society, only has eyes for Carlos, a young musician she has known since childhood and who only cares about two things: living without ties and her best friend Constanza.
When we drank coffee it is a novel that reflects the social idealism and cultural movement that begins to boil in the streets of Madrid in the hope of changing things. A song to freedom, to how to survive amidst so much uncertainty, but above all, to the efforts of those women and men who inspire us today to fight for our identity, not to give up and to be free to the last consequences.
El corazón de Madrid se convierte en un escenario que late a cada paso de los protagonistas de esta historia. Una novela que escenifica a la perfección la sociedad de los últimos años del régimen de Franco y la conquista por la libertad de una generación de mujeres valientes que lucharon por hacerse oír.
Matesa, el caso de corrupción más convulso del franquismo, sacude el panorama político y social en unos tiempos cada vez más difíciles. Ajena a esta realidad, Adela, una joven de alta sociedad, solo tiene ojos para Carlos, un joven músico que conoce desde la infancia y al que solo le importan dos cosas: vivir sin ataduras y su mejor amiga Constanza.
Cuando tomábamos café es una novela que refleja el idealismo social y movimiento cultural que empieza a bullir en las calles de Madrid con la esperanza de cambiar las cosas. Un canto a la libertad, a cómo sobrevivir entre tanta incertidumbre, pero, sobre todo, al empeño de esas mujeres y hombres que nos inspiran hoy en día a luchar por nuestra identidad, a no rendirnos y a ser libres hasta las últimas consecuencias.
More Information
Rights Information
all rights available
Author Biography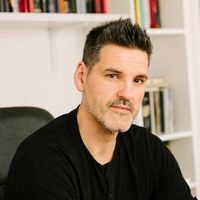 Se licenció en Derecho en la Universidad de Castilla la Mancha y tiene un Máster en Derecho del deporte por el ISDE. Actualmente es doctorando en Propiedad intelectual y Derecho de Autor en la Universidad de Alcalá de Henares.

Participó en el programa de radio Dale que truene, con una sección en la que recomendaba libros. Además, dirigió y presentó, durante tres temporadas, su propio programa cultural Librópolis.

Empezó su aventura literaria en el año 2002 con la publicación del poemario El versador de sueños y participó en el ensayo histórico Códex Templi editado por Aguilar. También ha formado parte de dos antologías de relato, La isla del escritor y Grimorio 13, esta última editada por Carlinga. Cuando tomábamos café es su debut en la novela.
Copyright Information
Primera edición, 2019
© Raspabook
www.raspabook.com
correo@raspabook.com
© José Carlos Sánchez Montero
I.S.B.N.: 978-84-949464-4-8
D.L.: MU 429-2019
Quedan rigurosamente prohibidas, sin la autorización escrita de los
titulares del copyright, bajo las sanciones establecidas por las leyes,
la reproducción parcial o total de esta obra por cualquier medio
o procedimiento, comprendidos la reprografía y el tratamiento
informático, y la distribución de ejemplares de ella mediante alquiler o
préstamo públicos.
Grupo Dokusou ediciones
Creemos en la cultura como insurrección, como mecanismo de transformación, como innovación social, como ejercicio de educación y sensibilización encaminados a crear espacios de eclosión, como punto de encuentro y reflexión.
View all titles
Bibliographic Information
Publisher

Raspabook

Publication Date

May 2019

Orginal Language

Spanish

ISBN/Identifier

9788494946448

Publication Country or region

Spain

Format

Paperback

Primary Price

20 EUR

Pages

516

Readership

General

Publish Status

Published

Original Language Title

spanish

Original Language Authors

spanish

Copyright Year

2019

Dimensions

23x15 cm
Subscribe to our
newsletter
(c) Copyright 2023 - Frankfurt Rights. All Right Reserved